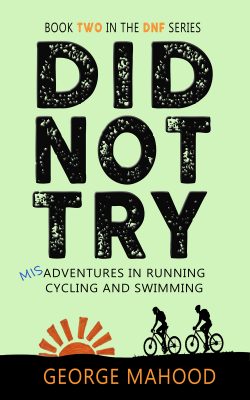 After signing his wife Rachel up for her first marathon without her knowledge and living to tell the tale, George is now struggling to keep up with her. He risks her wrath once again by entering her into a half-Ironman triathlon against her will: a 1.2-mile swim, 56-mile bike ride and a 13.1-mile run.
Did Not Try sees George and Rachel travel to Barcelona, Cornwall and the Cotswolds, and helps answer the age-old question: what happens when you are bursting for a wee while riding your bike, but an injured ankle means you can't unclip your cycling shoes?
Did Not Finish is a series of books about George and his family's adventures in running, cycling and swimming. From ultramarathons to triathlons, 10k swims to European cycling adventures, George promises fun and laughter every step, pedal, and paddle of the way.
Order Now!
Disclosure of Material Connection: Some of the links in the page above are "affiliate links." This means if you click on the link and purchase the item, I will receive an affiliate commission. I am disclosing this in accordance with the Federal Trade Commission's
16 CFR, Part 255
: "Guides Concerning the Use of Endorsements and Testimonials in Advertising."